The Bold Type Recap: Episode 5
The Bold Type Recap: Episode 5
This week on the show critics call "the best TV surprise of 2017", one of the storylines revolved around a topic I really wish they taught us in school: salary negotiations.
Sorry, Mr. Miller but instead of teaching me to play Hot Cross Buns on the recorder, how about you teach me how to ask for a raise when I get my desired career off the ground? 
Now that Sutton has been hired as Oliver's fashion assistant, all she has to do to officially start this position is sign her term sheet. She may have jumped the gun when she splurged on a new pair of Miu Miu flats on her first day (hey, girl, we've all been there!). Sutton finds out that they're offering less money than when she was working as Lauren's assistant. Well, this certainly puts a damper on things.
While sulking in the conference room, Alex motivates the newly minted fashion assistant to ask for a higher salary. "You're worth way more than Oliver can afford." He then teaches Sutton how to power pose -- a proven confidence booster he learned through a Ted Talk.
ALEX, PLZ BE MY BOYFRIEND RIGHT NOW.
Richard conveniently walks in as the two are goofing off, giving Alex a weird look. A look that says, "I'm hooking up with this girl, so don't you try and get fresh with her!"
Exhibit A:
To be honest, I did see a tiny spark between Sutton and Alex in that conference room. Do I want something to happen between the two? Abso-freakin'-lutely! If there's one thing this show is missing it's a love triangle between a woman and two guys. It's not as fun to watch when it's two women competing for one guy. This is why I only watch The Bachelorette and not The Bachelor. I don't know about you but I'm so over seeing female friendships turn sour because of one blonde guy with chiseled abs. Who says Sutton can't have as many options as Nick Vaill? 
Back to the important story. Oliver unfortunately can't offer Sutton the salary that she demands. Kat and Jane insist Sutton "go Nora Ephron on his ass" — in other words, demand more and be willing to walk away. Sutton, hesitant because she doesn't have a safety net like the late and iconic Nora Ephron, realizes she still CAN demand more. She struts into Oliver's office and asks for perks to offset her low salary.
"I want lunch three days a week. I would need guaranteed overtime and per diem when we travel. And a date three months from now when we can review my performance and adjust my pay accordingly because I know I will be indispensable to you. I feel like these are reasonable requests that will have little to no effect on your bottom line. And if you can't meet me on most of them, then, respectfully, I'm going to have to pass."
Ho. Ly. Shit.
I have never been more proud of a fictional TV character than now. 
While Sutton has been navigating her new position, Jane finds herself in an uncomfortable one. No, not with Pinstripe. He's totally MIA in this episode. I've already forgotten what his face looks like. 
Jane's being sued by a Wallstreet banker-turned-stripper over "defamation" regarding a story Jane wrote for Scarlet Magazine.
Not the strongest storyline this week, nor was it the most entertaining. In the end, it all worked out. Jacqueline and Richard helped Jane to settle the lawsuit before anything went public, potentially tarnishing the magazine's reputation. Jane walked away from this experience realizing she shouldn't be so quick to judge another woman. 
Across the office, Kat is over the moon after spending the night at Adene's apartment. Remember, last episode ended with the two women sharing a passionate kiss. The next day, Kat spilled the tea in the fashion closet with her two BFFs.
Later, Adena calls Kat to tell her she still hasn't broken up with Coco. She accidentally tweets about her relationship problems to the company's twitter account. 
YIIIIIIIIIIIIIKES. A million Social Media Managers peed their pants while watching this scene unfold. 
Luckily, Kat noticed in the MAJOR SCREW UP in under two seconds and deleted the tweet before anyone liked or retweeted it. Phew! 
The "intense lesbian shit" she was referring to included her feelings for Adena, a woman who has more experience when it comes to dating the same gender, and someone who uh, you know, still has a girlfriend!! The whole episode followed Kat going back and forth (and back and forth and back and forth) with wanting to be with Adena and wanting to break things off with her. Shit got really intense when Adena showed up to Kat's workplace (HOW DO THESE PEOPLE GET THROUGH SECURITY?!) demanding to know what the hell her problem is. 
Does HR not exist in the magazine world? Heated breakupsduring office hours would not fly, let me just say. 
Just when I was about to light a candle to mourn the death of Kadena, Kat has an epiphany in a spin class (say whaaaat?!) and realizes she does want to be with Adena after all. Kat is f'real ugly crying in spin class while coming to this conclusion. I can relate to this because every time I have to work out I end up crying in fetal position. Every time. I'm not lying. Call Alex at GoodLife and ask him why he refuses to train me anymore. 
Once Kat runs (literally) over to see Adena and get back together (for, like, the 5th time this episode), Adena reveals she already booked a flight back to Paris. Tonight. 
My emotions!!!!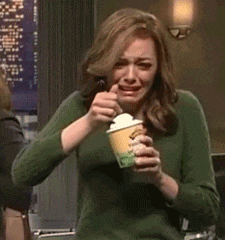 Kat must get over things rather quickly because the promo for next week's reveals a new hobby for the social media maven:
I can't wait to watch what happens next on The Bold Type. Watch with me, won't you? Tune in to new episodes Tuesdays at 9 E/P on ABC Spark.