Unplug For Earth Hour in Style
Unplug For Earth Hour in Style
Shine like a star this Earth Hour with glow in the dark jewellery or get cozy by an aromatic candle. Between 8:30-9:30 p.m. Saturday, March 25, World Wildlife Fund encourages you to unplug and make noise for climate change. Here are some creative and stylish ways to light up any room without using electricity.
Fairy Lights from Green Much 
Instead of a lamp, drape these teeny tiny, brilliant blue (and battery operated) LED lights around a window or over paintings for visibility. 
Candle from Chapters 
Grab some snacks and sit by the cozy rose gold glow of Illume's Woodfire Candle which lasts for 35 hours and smells like cedar wood, patchouli and warm vanilla. Yum!  
Himalayan Salt Lamps from Ecoexistence
Bask in the clean air, beautiful glow and tranquil ambience of a Himalayan salt lamp which comes in a variety of sizes. 
Lanterns from Lowes 
Outside on the porch or in the kitchen, this blue ceramic fish lantern will light up any space in the event of a self-induced blackout. Also available in white and blue. 
Glow in the dark bracelets from Glow Products
Have some creative and colourful fun when the lights go out with glow in the dark bracelets in blue, green, orange, pink and yellow. The glowing effect lasts up to 12 hours.
Starlight projector from Bedding Inn 
You'll want to celebrate Earth Hour every hour under this dreamy indoor constellation.
Sticky Stars at Amazon
No matter how old you are, glow-in-the-dark stars are a sweet way to light up any room all hours of the night. 
Night Light at Well
For the kid who needs a light on to sleep, check out this adorable owl character which shuts off automatically after 20 minutes. It also doubles as a toy!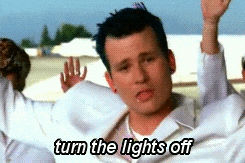 Happy Earth Hour!