6 New Year's Resolutions Every 20-Something Should Make, According to Psychologists
6 New Year's Resolutions Every 20-Something Should Make, According to Psychologists
Whether you believe in new year's resolutions or not, there's no denying that a new calendar year provides an inspiring opportunity for fresh new start.  With 2018 on the horizon, now's the time to start reflecting on the ways you might be able to grow in the new year ahead.
For this reason, we asked two psychologists and a master coach on their expert-recommended resolutions for people in their twenties.
Practice More Self-Compassion
Your twenties are a time of immense growth and change, which means that it's only natural to feel like this time in your life is filled with so many challenging moments. According to social psychologist and associate professor at Rension University College, Dr. Denise Marigold, the best way to deal with any form of hardship is to show yourself the self-compassion you deserve.   
Ask yourself: "How do I talk to myself when I'm struggling with something?
Then, think about how you would talk to your friend in the same situation."
Marigold explains that it is so easy to be critical of yourself, which is why it's so important to practice being your own biggest cheerleader. "Criticism isn't as motivating as people often think it is," she says.
Write Every Day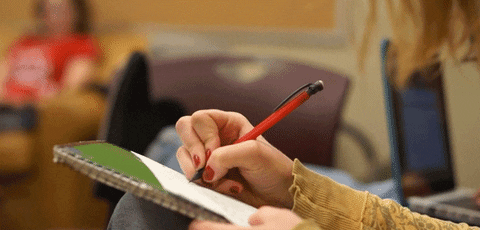 Before you go to sleep, start jotting down a few notes about how you're feeling about different aspects of your life, like your job, your relationship or even just your mood. This simple exercise is a great way to develop self-awareness, a component of emotional intelligence that many 20-somethings can benefit from developing. 
Self-awareness helps us answer the 'why' questions that can help us make the change we need to better our lives, registered psychologist Dr. Joti Samra explains. Without self-awareness, we don't know why we don't like the job we're in, why we're frustrated with the guy we're dating or why our mom is driving us bonkers, she says. 
Samra also suggests asking yourself these questions: what emotions did I experience today? What factors contributed to those emotions? What did I learn about myself today? What would I do differently next time?
After a few weeks of this practice, you'll be surprised about how much you learn about yourself. 
Communicate Better 
If you and your partner both want to make make a new year's resolution that will benefit your relationship, there's one thing every couple can improve on, says Marigold.
"Even people who say 'oh we talk about everything'; often don't actually talk about their thoughts, feelings or reactions to various things their partner says or does," she says.
It's important to keeping working on better communication skills with your partner and to be open about things like goals for the relationship and what you like in bed.
"We often assume our partner must just know somehow," Marigold says.  "But even in a loving and connected partnership people are not mind-readers. When things are left unsaid and rather implied, sometimes resentments can build and disappointments become acute."
Prioritize Relationships Offline The single best thing you can do for your health and wellness is to focus on nurturing relationships and personal connections with your friends and family, says Marigold.
In 2018, make it your resolution to spend time connecting with others without the help of an app or social media. "Social media can help us keep in touch with people who are far away, but there's really no substitute for spending time with people face-to-face."
And if too many miles are keeping you and your loved ones apart, try sending them a card in the mail to let them know you're thinking about them. This small gesture is an easy way to put a smile on someone's face.
Make New Friends
Making new friends when you're in your twenties can be hard, but it's definitely worth the effort. This year, Samra suggests to consider new friendships from a value-based perspective.
"Articulating your values (such as volunteering) can help you know what values you seek in others. And alignment on values can serve as a solid foundation for a rich relationship."
After all, creating a community of supportive like-minded people is one of the best things you can do for yourself.   
Become More Resilient
One of the most common traits among successful 20-somethings is resiliency, the ability to deal with change, says Master Coach Christine Hassler.  For most people, life is planned out for us through school and it's only until we reach our twenties that life really starts throwing curveballs at us, Hassler explains.
This year, make it your resolution to take more risk. Put yourself out there and don't be afraid to make a fool of yourself, she encourages.
"Ask for that raise, write that blog, raise your hand in a meeting or ask that person out. That's how you can develop more resilience, that's how you grow stronger and become more confident."