Treat Yo Self! To a Lash Lift and Tint
Treat Yo Self! To a Lash Lift and Tint
Ladies, the weekend is almost here! We've been working long hours, paying the bills, smashing the patriarchy.
Now there's only one thing left on the to-do list:
Donna Meagle's right. Don't let her down. Once the clock strikes 5, it's time to GTFO of the office and do something nice for yourself.
You want a nice blowout for the dance party tonight? Treat yo self! You want to buy the new book they dubbed "the new Girl on the Train"? Treat yo self! You want to buy a nice vintage bottle of red wine instead of the $8 bottles you usually buy at the LCBO? Treat yo self! If anyone deserves something nice it's you!
This weekend, why not treat yourself to a Lash Lift and Tint? This beauty technique has become more and more popular as women search for the perfect set of lashes. Women are tossing their silver curlers and skipping the extensions in place of a tint and lift. A lift can add curl and definition for 8-10 weeks. A tint darkens the colour of your lashes so you don't have to reach for that black mascara anymore and lasts up to 6 weeks. 
Miranda Voth is a certified Lash Extension Tech and Medical Aesthetician in Toronto and the owner of MV Beauty Lab. Miranda offers services such as the lift, tint, extentions and chemical peels. She also carries her own line of lash extension cleanser, specifically formulated to use safely on lash adhesive, without deteriorating it. She says lash extensions require specialty products and mascara because other products can break down the glue. "With a lift, you can wear regular mascara and oil products because you're able to treat your lashes as you normally would."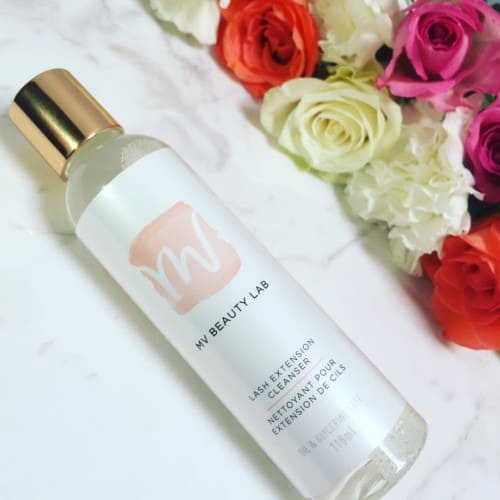 Book an appointment with Miranda Voth in Toronto or any certified aesthetician in your city and get a lash lift and tint! "Having eyelash extensions glued to your natural lashes is not for everyone. The lift and tint is the compromise of having lashes that stand out without adding falsies!" 
For starters, you don't feel a thing. You lay down on a table on your back with your eyes closed. Pads are applied on your eyelids and under your eyes. An aesthetician like Miranda just works her magic while you drift off to la la land. The whole experience is pretty quick and painless, scout's honour! In the end, your lashes will look Kardashian-like except yours are 100% real! For the first 24 hours after your lift, Miranda says to avoid wetting or rubbing your eyes, using a sauna, sun bed or swimming. You also have to wait 24 hours until you can actually apply mascara. But with a tint, you won't really feel the need to.
It's a great procedure if you're getting ready for a big event, heading out on vacation or just want to up your selfie game. To be honest, I got mine done so my passport photo would look nice (DON'T JUDGE ME! We all have to live with that photo for 5 - 10 years!). 
I save about 5 minutes every morning now that I don't have to apply 3 coats of mascara. When I wash my face at night my lashes stay dark and curled. This is truly the best thing I've ever treated myself to. Go out there and treat yourself the same!